Welcome to the website of the Northern Ireland Group of Flower Arrangement Societies,
 an area of NAFAS.
Enjoy browsing through our site, as we hope to keep you informed, as to what floral events are happening around the area.
We are affiliated to NAFAS the National Association of Flower Arrangement Societies a registered charity. Currently the NIGFAS Area has 21 clubs with a membership of 1000. Our aim is to encourage all in the art of flower arranging, through demonstrations, talks, classes, flower festivals and show work. Many of these activities take place in local flower clubs to which you would be made most welcome.
No experience is necessary to join a flower club. Go along to one, you might discover a new talent! Please click on Flower Clubs to find one near you.
NIGFAS take an active part in the Belfast Spring and Autumn Fairs. Come and see us at our stand. See the Belfast Parks Department events brochures or website for details of these Shows.
There are lots of exciting events coming up and we would love to have your support at as Many of these as possible
Please Check Floral Events for Information
Liz Manning NIGFAS Area Chairman

This is a Video Message from Chairman of NIGFAS Liz Manning
Please click the link below to view the video
Message from our Chairman of NIGFAS Liz Manning
Late on Friday 12th June 2020 I received a message from Steven Lane Chief Executive Officer NAFAS
'The National Association of Flower Arrangement Societies Press Release from the Board of Directors, 12th June 2020
It is with great sadness and regret that the Board announce the resignation of two of it's Directors. Vice Chairman, Craig Bullock and Pam Ferguson have resigned with immediate effect. Both have thanked their fellow Di
rectors for their friendship during their time in office.
The Board also announce the resignation of the Chairman of the Editorial Committee and Director of NAFAS Enterprises Ltd, Muriel Simpson.
The Directors wish to thank Craig, Pam and Muriel for everything they have done for NAFAS during the most challenging period in the Charity's history and wish them well for the future.

The Association, already facing the most difficult of times, must now address this latest setback and plan a new way forward. A Board meeting will be held on Monday at 10.00am to address the situation and a full statement will follow '
Today the following statement was received. Until the Area Chairmen have a zoom meeting I have no further information
This is the latest NIGFAS Newsletter
Please click on the link below to see the Newsletter
This is a letter from The Chairperson of AOIFE regarding an update ON Covid 19
Association of Irish Floral Artists
Dear Secretary,
A meeting of the AOIFA Executive was held via Zoom on 18th June with a view to regulate for the
Association, in these unprecedented and unpredictable times. It was unanimously decided that, due
to Covid - 19, AOIFA gatherings should cease until the AGM in March 2021, when the new
Executive will take over. It is envisaged that such activities will return to normal in 2021. Ways of
delivering  some of the Judges' Course on line are being investigated.
This decision was made in order to secure the health and safety of our members and to bring some
degree of clarity to the current uncertainty. In the interim, the current Executive will remain in place
and manage the Association's affairs with the help of the incoming Executive.
As each club is autonomous it may make its own decisions regarding its activities and is advised to
do so based on HSE and Government Guidelines. Please refer to www2.hse.ie as how to protect
yourself and others.
It is hoped to keep in touch with members by providing short virtual demonstrations and features by
our members. Please keep an eye on the AOIFA website for updates and reports.
Booking fees for the March 2020 AGM and Individual and Club membership fees, already paid, can
be forwarded to next year.
Your much appreciated fund raising money was donated to Pieta House recently. It was very
welcome in these difficult times. I acknowledge the hard work that all clubs put in to raising this
much needed money for our charity.
As we look forward to returning to normality in the spring, the AOIFA Executive joins with me in
wishing you good health and wellbeing.
Kindly convey this information to ALL your members.
Yours sincerely,
Mary O'Brien
Chairperson
Easter Letter from NIGFAS Chairman
           Dear All,
              I trust that you are all coping in this very challenging time. It is hard to believe that we can no longer go for coffee, meet up with family or go out to all the activities we were so busy with a few weeks ago. It is a very difficult time for those who are working on the front line – 3 Cheers for all our amazing Health Service Staff, Emergency Service Workers and all those providing Essential Services. Its good to see the response in our areas to the Clap for the NHS on a Thursday night and the Rainbow drawings from the children. Simple ideas can be so inspiring.

              Yes, in this unprecedented time in our World so much good is being seen. Thank you to each and every one of you who is supporting older members who cannot go out, and those who need help in our communities, and are thinking of ways to encourage and support each other

              My garden has benefited from the imposed lockdown and weren't we fortunate to have so much dry weather lately. I hope to get the cupboards sorted and all the little jobs done that were on the list 'IF ONLY I HAD TIME'. I've decorated my Easter Tree but had no 'little ones' to help me decorate eggs and decide where to hang the eggs.  Modern technology means I can see the grandchildren but it's not the same.

              As we approach Easter I pray that we will all Stay Safe, stay positive, follow the guidance given and  know that together WE Will GET  THROUGH THIS !! 
               I found the following little quote that I thought is very relevant for us all at this time.
Advice for the Gardener
Grow PEAS of mind
 LETTUCE  be thankful
 SQUASH selfishness
 TURNIP to he neighbours
                                                              AND ALWAYS 
                                                              Make THYME
                                                              For loved ones

   



Liz Manning

NIGFAS Chairman












Pre- National Assessment and National Demonstrators Test Revised Dates Wednesday 21st April and Thursday 22nd April 2021
PRE-NATIONAL ASSESSMENT
&
National Demonstrators Test
to be held at
Northwich Memorial Court
Northwich
CW9 5QJ
on
Wednesday 21st April 2021
Thursday 22nd April 2021
from
10.00am to 4.30pm
(doors open at 9.30am)
TICKETS £12 per person, per day
available from
Vanessa Keys, NAFAS, Osborne House, 12 Devonshire Square, London EC2M 4TE
cheques payable to NAFAS – please include a SAE
or
card payments taken at Headquarters 020 7247 5567 – digital tickets issued
tea & coffee available
Reg Charity No. 1101348
Test held by kind permission of The Cheshire Area of NAFAS
Idea from Kate Kear Area Chairman of Three Counties and South Wales
Following on from the Simple ideas I mentioned in my letter I received this today. I think it is a lovely idea. I will be doing it – have already found a Green Ring to fix up and put in the window.
If you like take a picture and perhaps send to your club if the club has a Facebook page. Kate Kear is the Area Chairman for Three Counties & South Wales.

"Hello Everyone
I do hope you are keeping safe during these unprecedented times.
This week on my daily walks I noticed a variety of rainbow pictures, some homemade by children, some printed, but I noticed them all.  In folklore the rainbow has always been, amongst other things, a symbol of hope, the calm after the storm.  This got me to thinking about how as an Association we could, short term, use our homes and skills to send out messages. I do believe in the dripping tap theory, so many simple little words and actions collectively make a difference.  There is a limit to how we can help in this situation but we can be seen to support.
I am hoping as many people as possible make or find a ring and add a green ribbon to it and put it for the duration on front doors or prominent windows. The ring symbolises unending and everlasting love , the cycle of life and hope. Green is for renewal, balance and progress .
Please send this to all your clubs and put it on the various media facilities to spread the word. Thank you so much for your help in passing this on. Pass the idea to family and friends, neighbours and more.
Thank you so much. Katherine Kear"
I Will be putting this in the window as a sign of Hope and Love
Liz Manning NIGFAS Chairman
Flower Arranger Magazine
Dear All,
Please read the attached letter from our NAFAS Chairman and CEO. I trust you will understand the difficulty our Flower Arranger club officers will have in distributing the Spring Edition. Please be assured that you will get your magazine as soon as is humanly possible in the current circumstances.
Liz Manning, NIGFAS

Please see below a message from the National Chairman, Dr Christina Curtis and Chief Executive Officer, Steven Lane:-

"The Summer issue of The Flower Arranger magazine is due out later this week. We know how much you look forward to your 'flowery treat' but the cancellation of club meetings and lockdown make getting it to you a challenge.

Please bear with the situation and rest assured that your Flower Arranger Officer will try to make arrangements to get your magazine to you as soon as it is safe to do so.
In the meantime, we will be posting some highlights from the magazine on social media @flowerarrmag on Facebook, Twitter and Instagram.

As ever the magazine is jam-packed with seasonal inspiration, step-by-steps and events. If you don't already subscribe, the cheapest way to get the magazine is via your club; please talk to your club Flower Arranger Officer. If you are not a club member call 01778 392491 for subscriptions."
Update on Deliveries of The Flower Arranger Magazine 
Our Flower Arranger Officer George Madden has forwarded this information from Sylvia Loader NAFAS  

Just to let you know during this very difficult time, Warners are having to make some changes to their staff levels.  I have been advised that my normal contact for delivery issues will not be around for the next 3 weeks, all the Flower Arranger work is being spread between different staff all now working from home.   Please continue to report problems in the normal way, but please be aware that delays in information getting back to me/you will be inevitable.

It is essential that when reporting problems to me that you supply the following information:

Club Ref and Club name
CFAO name and address
Problem reported
Number of magazines ordered
NAFAS ANNOUNCEMENT
CANCELLED- It is with much regret that NAFAS announce the cancellation of The Twenties Weekend in Leicester this August. Our grateful thanks go out to all those involved in the organisation of the event and in particular to our National President, Sue Brinton, who was the driving force behind the Twenties Weekend. This would have been a fitting tribute to Sue in this her final year in office. Unfortunately, due to the advance commitments of many of those involved, we are unable to rearrange this event.

For those members who have booked tickets, a refund form will be sent to you with instructions on how to claim your refund and we ask you to please bear with us on this process.

Kind regards.

Steven Lane
Chief Executive Officer
NAFAS
NIGFAS CHAIRMAN Statement on Coronavirus
We are in a very fast moving situation and following consultation with our President and Secretary I have decided that we should follow the advice issued by NAFAS earlier today. While England / Scotland may be a bit further along as far as the spread of the virus I think we need to be sensible,  and for all of us the bottom line is the health and well being of members. 
The Mock Demonstrators Test is going ahead tomorrow however we are 
advising you follow the guidelines below. I am sorry if some of you have got some of this information via social media, however it does take a little time to deal with such a situation. 
Be sensible, look after each other and hopefully we can at least get into the garden and enjoy flowers while the many restrictions are in place. 
LIZ MANNING
CHAIRMAN NIGFAS
NAFAS Statement on Coronavirus
Attached is an updated statement on NAFAS position on Coronavirus. This will be added to our website today.
The Board are extremely concerned about the rapid pace of the developments surrounding Coronavirus and we are receiving a number of enquiries from members asking for advice. Our recommendations are:
Cancel all meetings planned in April 2020.

Give careful consideration to all meetings planned between now and the end of March.

Do not arrange any future meetings or events until further notice.
FULL ADVICE STATEMENT - 
Do not arrange any future meetings or events until further notice.
Please note, these are recommendations only, and all decisions made are the responsibility of the Club or Area. There may be local considerations to be aware of, for example, a member of a club may contract the virus. Please contact Head Office should you have any concerns or for full information and guidelines about Coronavirus (COVID-19) please visit the NHS website – www.nhs.uk
It is the responsibility of the Club and Area Chairman to fulfill their contractual obligations to a Demonstrator if a meeting is cancelled at short notice, especially if flowers have already been purchased. Please 
NAFAS UPDATE
March Newsletter
During the last few weeks, having been plunged into uncertainty, we have all been focusing on keeping our membership safe and well as our priority. We are aware of members concerns about the future of the Association. It's true, these are testing times for us all, but we want to reassure you that the Association has the resources to come through this crisis and we will be there throughout to support our Areas, Clubs and Members.
Here for You
As your NAFAS Board of Directors, we have held our first Virtual Board meeting via an online conference facility.
The meeting was very constructive and positive, where we looked at how, as a oard, we can support you.
Step one – each of the Board Directors will be in touch with 3 Areas and so will be contacting your Area Chairman to help and support them through this uncertain period. To hear your issues, then work on how we can help you.
The other communication tool which has been dysfunctional for some time is the NAFAS website, As this is our main form of communication we have decided to proceed with the design of a new site that we hope will bring flowers and floral design back into all our lives. Our grateful thanks go out to those Areas who have made contributions to this project.
We were inspired to see on Wednesday evening an online demonstration by John Paul, a member of Londonderry Flower Club in the NIGFAS Area. Members of the club were joined by many of us from around the world. What an excellent initiative. We are certain that knowing how creative you all are, as we settle into isolation you will come up with many innovative ideas. The strength of our Association is the creativity of the membership.
Ideas
So, start letting us know your ideas so that we can circulate, enable peer support, and as one big NAFAS Team we can work together.

 Concern
We are obviously concerned about our Demonstrators, Speakers and Teachers whose work has been severely affected by the call from the Government to isolate ourselves. We hope that the recent information regarding the 'self-employed' will help to support those who earn a living from our industry. We will keep abreast of all Government initiatives to support you.
Communication
In this period, when we cannot physically meet, all forms of communication are even more important than normal. By reinforcing this national process, we want to encourage you to do whatever you can to keep in touch, remember for many you might be a lifeline.
We are certain that, with the kindness and generosity of spirit in this world, in drastically changing times, we can make a floral mark on our communities to show that flowers and nature lift our spirits and become the medicine we all need.
We ask clubs and Areas to keep your Facebook and website pages up  to date with comments about your club and flower arranging pictures, maybe from your clubs past events.
Chrissie Harten's latest video, "Alternative Mechanics – Using Chicken Wire" is available on the NAFAS website.
Finally, let us draw your attention to Let Hope Bloom. Launched by the  flowercouncil.co.uk this project fits well together with our own ethos of  bringing people and flowers together.
Keep safe
From the Directors of NAFAS,
Dr Christina Curtis, Craig Bullock, Ellie Meaking, Peter Mathers,
Ann Harding, Pam Ferguson and Kathy Lee 
NAFAS Coronavirus ( COVID 19 ) Statement Update

NAFAS – Coronavirus (COVID-19) Statement (updated 9th April 2020)
Over the last few weeks, since our last statement, there has been much change to the COVID-19 guidelines set by the Government, the World Health Organisation and the UK NHS. 
The health and safety of our members, staff and visitors is our priority. 
We, as your National Association's President, National Officers, CEO, Directors and staff have continued to work on your behalf to provide support for the whole membership. There are two ways that we have enabled our continued support and communication:
1) Our Head Office staff are working from home following the Government Guidelines, so you are still able to communicate with Head Office in the normal way by phone and email.  
2) We, your Board of Directors are now holding weekly Virtual Board meetings, every Friday at 11am thereby increasing the frequency of these meetings, so that we can lead the way forwards and respond to the everchanging circumstances.
After each Board meeting, we are releasing the Minutes from the previous week to the Area Chairmen, to aid swift communication of decisions, guidance and help.
In addition to those meetings, through technology, interim discussions and decision making is taking place. We are constantly investigating how we can aid communication to and from your clubs and Areas to NAFAS, and indeed between your Areas, encouraging peer support. We acknowledge that the website is not functioning at an appropriate level, so we have prioritised the design and build of a new website, about which we will keep you informed.
Recently we have postponed or cancelled NAFAS events for the foreseeable future. This decision has not been taken lightly, but bearing in mind that, even if we were to come out of this period of lockdown, many will initially, quite rightly, be very reticent at coming together in large numbers. We are also not clear of timescales and whether there might be a second wave of infections leading to another lockdown. As you will appreciate, it's difficult to offer advice about future meetings while the Government lockdown remains in place. Once this has been lifted, we will be able to start making plans again and rescheduling our meetings."
Please note, all decisions made are the responsibility of the Club or Area. There may be local considerations to be aware of too, for example, a member of a club may contract the virus. Please contact Head Office should you have any concerns or for full information and guidelines about Coronavirus (COVID-19) please visit the NHS website – www.nhs.uk  
It is the responsibility of the Club and Area Chairmen to fulfil their contractual obligations to a Demonstrator if a meeting is cancelled at short notice, especially if flowers have already been purchased. Please honour your responsibilities.  
In addition to communication, your Board really encourages you to be creative in the strange situation we find ourselves in. There are lots of ways online that we can show to the world our love of flowers to brighten outlooks and lift spirits. Technology is providing an important way of virtually meeting together to share this passion, so please go to the following Facebook Pages:
•NAFAS       •Friends of NAFAS       • Flower Arrangers       • Your Area  Your Club
 Also follow     •The Flower Arranger social media  
Don't forget to view your own Area websites and Newsletters. 
Stop Press - *The Flower Arranger is out this week. Remember it does come out in digital form as well*
If there are any changes to the current recommendations from the Government or the World Health Organisation, we will review, react to and communicate their instructions promptly.   
RHS CHELSEA FLOWER SHOW 19TH - 23RD MAY
The show has been cancelled due to Coronavirus
It will be available through virtual images
Is your Garden as good as Chelsea Flower Show ????
Could you have a, winning garden? The RHS and BBC1's The One Show are joining forces to launch My Chelsea Garden, a competition encouraging gardeners across the nation to share images of their green spaces and growing efforts at home in search of the very best.
The charity and broadcaster are asking people to enter pictures of their garden in one of the following four categories:
Back Garden,
Front Garden,
Indoor Garden
(Houseplants, window sills, balconies, etc),
Kids' Corner Garden.
you can only enter one image in one of the categories. Pictures must be of people's own indoor or outdoor gardens and must be taken between Friday 1 May and Monday 18 May 2020.
The best gardens will be shortlisted by a team of researchers and horticultural experts and selected to go before a panel of judges based on their suitability and the information supplied by the nominee. A winner from each of the four categories will be selected and will win four tickets to the RHS Chelsea Flower Show in 2021 and a special RHS Award commending their garden.
Entries open at 7pm on Friday 1st May and close at midnight on Monday 18th May. The winners will be revealed on The One Show and across RHS social platforms and their website on Friday 22nd May
https://www.bbc.co.uk/…/SyXWtjtkKSvBRw9lT…/my-chelsea-garden
Rings of Hope & Appreciation
Flower Arrangers all over the country are creating door rings to show their appreciation of the NHS staff and essential workers during this emergency. They are decorating them in green and blue, with ribbons, flowers and foliage.
The ring symbolises unending and everlasting love, the cycle of life and hope. Green is for renewal, balance and progress, and blue for the NHS.
Gloucester based NAFAS member and Master Florist Katherine Kear, whose idea this was, thanks all who have already decorated their doors and encourages the public to find creative ways to take part in this gesture of thanks.
Step by step ideas, suitable for beginners and children, can be found on the NAFAS Facebook page @NafasFlowers and also Katherine Kear's Facebook page @KatherineKearFlowers. A 'How to' video is available on the nafasflowers YouTube 
Obituary to The Rev Mac

NIGFAS members have been very saddened by the death of the
Very Rev. William McMillan MBE, MA on 19th. January 2020.
This is a tribute to our wonderful friend who is so sadly missed by everyone.
With affection he was called "Mac" by all who knew him and in a strange way he didn't need the title "Rev" to indicate his Christianity and his love and respect for all aspects of God's Creation. When Mac left school, his teacher said he would either end up on the stage or the pulpit. She underestimated him. He did both.
Mac said that he became involved in flower arranging by accident! His first love of flowers stemmed from gardening and he was a member of Suffolk Garden Society. Observing the Floral Art Competitions, he expressed his opinions on the matter of drapes and was challenged to do better. He accepted the challenge and joined a class taken by the late Mrs Betty McCrory. He used to arrange the flowers for special events in church and pretend that his wife Sheila had done them. It was not long before the Newry congregation realised that it was Mac and not Sheila who did the flowers. To quote his son" Dad, it is bad enough having to be the son of a clergyman, but a flower arranger as well?"
On moving to Dunmurry he 'discovered 'Julia Clements and Betty, recognising his particular talents, encouraged him to enter competitions. He was then persuaded to take his Area Demonstrator's test. It wasn't long until he undertook his National Demonstrator's Test and was asked to demonstrate at the next National Show in Bournemouth. More National Shows followed. He has travelled the world demonstrating from Mexico to India, Barbados to Bangkok and many places closer to home. He used many of these events to raise funds for charities at home and abroad seeing every invite as a privilege and feeling that he learnt so much from the different cultures that he could not take a fee for himself.
He was chairman of NIGFAS from 1978-1980.
In Northern Ireland he worked to establish cross community nursery schools, places that did not exist at that time. At the 1978 Congress in Oxford he was awarded the IARF Albert Schweitzer Award for his work in breaking down barriers and in promoting religious freedom.
He was appointed a Special Associate of Honour of NAFAS in 1989.
He received the MBE in 1999 in recognition of his charity work.
Garden Clubs of America made him an Honorary Member, their highest award, granted only to 4 people outside the United Sates.
He lectured on several occasions in the de Young Museum in San Francisco.
In 2000 Mac was asked by Father Finnegan to design a festival to celebrate the Millennium at Dromantine House, Newry, Co Down and 120 of his friends from 26 different countries came to Design 2000- An International Symposium of Floral Art. Delegates gave him a standing ovation and Mac quoting his beloved Yeats 'Tread softly / Because you tread on my dreams' said simply 'You have made my dream come true'. This international gathering was repeated in 2006.
A prolific writer Mac penned books, articles and pamphlets on many subjects. His writings displayed both a depth and breadth of knowledge presented in a style that was eloquent, accurate and instructive. 'Floral Designs – A Celtic Way' and 'Beyond Mere Words' are examples of his published Floral Art books
To celebrate his 80th Birthday and the contribution he made to flower arranging NIGFAS arranged to have a plant named after him and in 2011 the name HOSTA
'Reverend MAC' was registered.
He won Best in Show at WAFA in Canada and in 2014 Mac won the special WAFA award for the MOST INNOVATIVE design at the 11th World Flower Show held in Dublin, and this was after he supposedly retired!!
MAC was a true friend to many, had a great interest in history, a wonderful command of language, worked tirelessly to unite communities in Northern Ireland and served Dunmurry First Presbyterian (Non- Subscribing) Church faithfully. We in NIGFAS are so proud to have known this outstanding man.
He is survived by his wife Sheila who over the years had to stay at home because of work, family commitments and to 'mind the shop' but was his rock and constant support.
Our Thoughts and prayers are with Sheila and the family at this sad time and he will be missed by all in the Flower Arranging world.
Liz Manning

Condolences Message  From Our Chairman
It is with great sadness that I have to inform you that Rev William McMillan MBE died  peacefully this morning. Rev MAC was a Special  Associate of Honour of NAFAS , a past Chairman of NIGFAS and a friend to many and will be greatly missed . Our thoughts and prayers are with the family at this sad time. 
Liz Manning 
NIGFAS Chairman

 WAFA EVENT

20 April 2020 

SOUTHERN SOJOURN – INTERNATIONAL WAFA SEMINAR
In South Island, New Zealand
14-25 March 2021
Dear members

The UK has been invited to send 10 delegates to take part in the above event. The Seminar will give attendees a chance to experience the host country's culture, see floral art presentations and competitive work (which may involve judging), take part in workshops with top tutors and view wonderful scenery around the Seminar's hubs in Christchurch and Queenstown in an atmosphere of fun and friendship along with other delegates within the WAFA family. 

The cost of the Seminar ONLY for shared accommodation has been estimated as approximately NZ$8,000 and single occupancy as NZ$10,000. Due to the New Zealand Government's plans/rules for post lockdown in the months ahead, the programme and costs are subject to alteration. The WAFA NZ Host Committee suggests that WAFA members keep up to date by using the website www.wafanz.co.nz 

PLEASE NOTE: Delegates will be expected to pay for themselves, arrange their own insurance and organize their own travel to and from New Zealand at the appropriate time. If desired, delegates can make their own arrangements to extend their stay in New Zealand before and/or after the Seminar.

If interested, please submit your name and contact details to me by 30th May 2020, via vanessa@nafas.org.uk and a list will be prepared. Should there be more than 10 applicants then a ballot will take place. Some countries do not take up their whole allocation of places and if unsuccessful in the ballot, attendance may still be possible. 

With kindest regards

Yours sincerely

Dr. Christina Curtis

NATIONAL CHAIRMAN
World Show Jaipur India
On behalf of everyone at NIGFAS can I wish everyone travelling to Jaipur, India for the 13th World Show 24th February - 1st March a safe journey and a great fun and flower filled experience through the wonderful world of flowers.
Sandra Abbott will be staging the NIGFAS Honorary Exhibit and we know she will be a wonderful ambassador for us.
Best wishes to everyone who has entered the competitions, to Joan Magee who will be judging and to Margaret Abernethy, Chairman of the Board of Directors WAFA as she carries out many roles over the time of the show.

Liz Manning NIGFAS Chairman
Message from Christina Curtis National Chairman
The Malvern Spring Festival 7, 8, 9, 10th May 2020
Good Morning 
Please find here with attached the schedule and entry form relating to the RHS Malvern Spring Festival for your information.
The theme this year is Wanderlust and Wonder.
Present day horticulture is a result of mankind's wanderlust. For centuries people travelled the world discovering new plants and their special qualities striving to enrich lives and experiences.
Wanderlust is what drives us to explore, learn and find inspiration to create. It reflects an urge for self-development by experiencing the unknown, confronting unforeseen challenges, getting to know cultures and ways of life. As in gardening it helps us heal.
The concept of wanderlust could be taken literally; to create exhibits inspired by a voyage or more deeply as exhibit reflecting the journey of self-discovery, the longing for yet another new experience or vision.
Successful entries will be entitled to a £700 bursary (issued in instalments), however,  entries are limited. As ever please ensure that you examine the regulations as these are updated from time to time.
With kind regards.
Christina Curtis
CONGRATULATIONS
These are the Students who were presented their NAFAS Intermediate Certificate in Floral Art and Design Level 2 from
NIGFAS chairman Liz Manning at the NIGFAS AGM
Lorraine Bothwell, Jackie Catherwood, Johann Henderson, Ann Mullin, Thomas Caw, Sally Mc Curry, Audrey Seawright, Elbha Walmsley
Also in the photograph is Tutor Barbara Megarry, NIGFAS President Jean Bruce and JDS&E Chairman Winifred Gibbon
NIGFAS PHOTOGRAPHY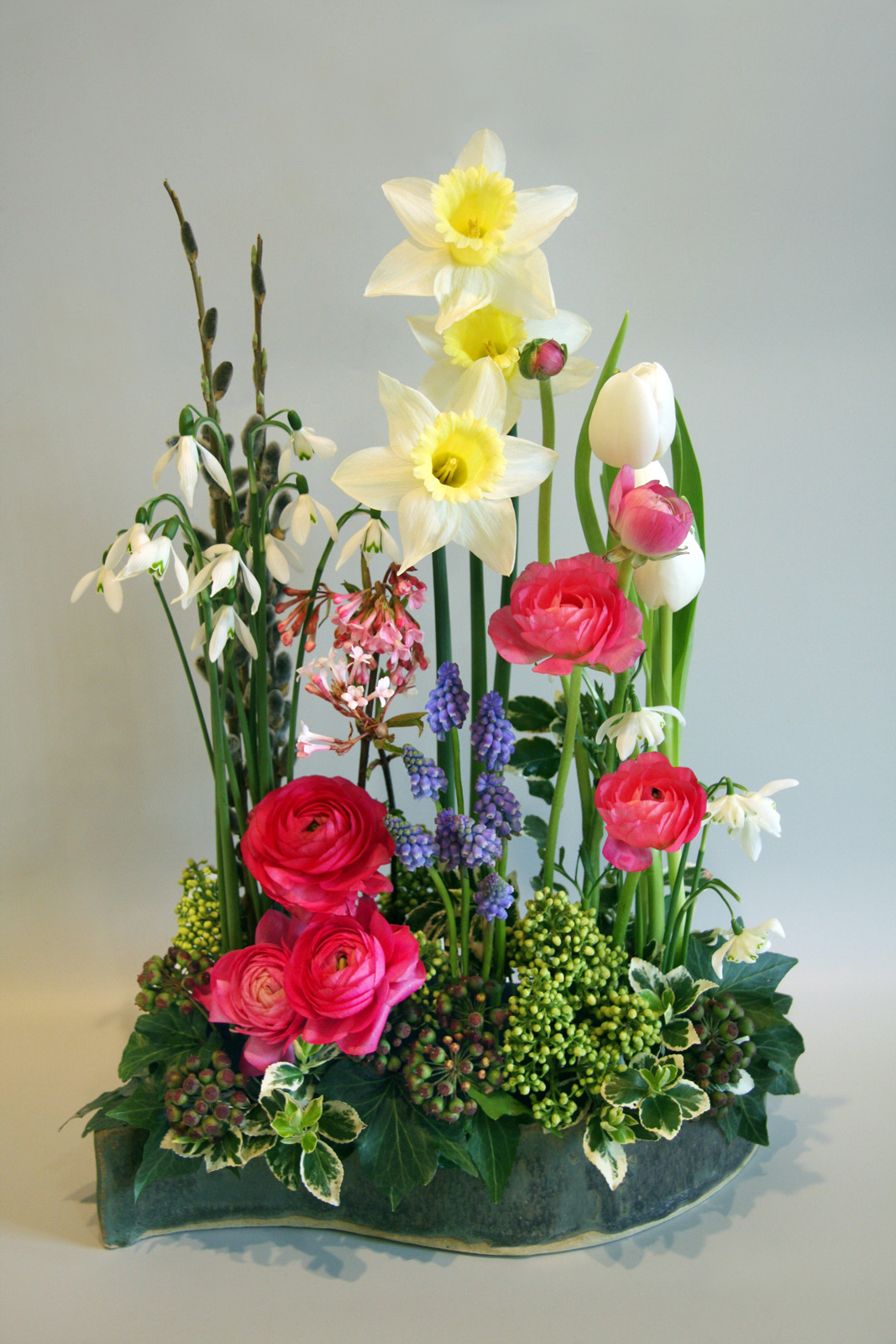 For latest Photos & Videos from NIGFAS & NAFAS
https://youtu.be/6JmFl55LvLE